Flash flooding hits Dingwall amid yellow weather warning for thunderstorms from the Met Office; further warning to apply to most of Highlands tomorrow
---
Published: 21:17, 10 July 2019
| Updated: 21:18, 10 July 2019
---
---
Gallery1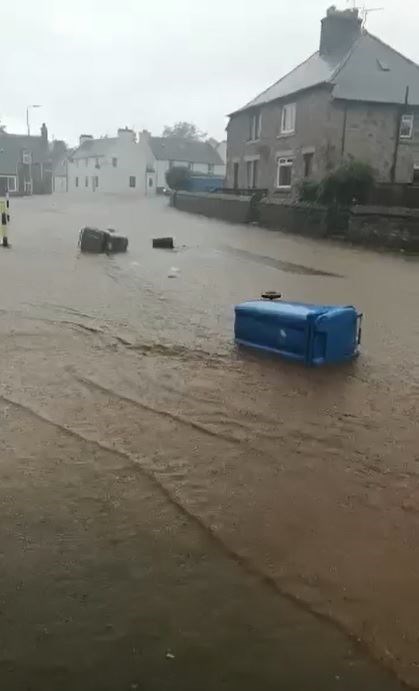 TORRENTIAL rain has brought flash flooding to parts of Dingwall this evening.
The heavy downpours turned roads into rivers in parts of the Ross-shire capital.
Some of the streets affected included the likes of Gladstone Terrace, and Burn Place outside the town police station.
The severity of the flooding prompted Highland Council to Tweet that sand bags were "available from Craig Rd and Greenhill depots".
The flooding comes amid yellow weather warnings from the Met Office for thunderstorms on the east coast.
One for the east coast on Wednesday only came to an end at 9pm, but didn't extend as far west as the Black Isle or Dingwall.
Another warning, which does cover Dingwall as well as much of Ross-shire, Sutherland, Caithness and Inverness-shire, is set to kick in at midday tomorrow. It is expected to remain in force until 9pm on Thursday.
Forecasters have warned of potential travel disruption and flooding "in places".
"There is a small chance that homes and businesses could be flooded quickly, with damage to some buildings from floodwater and lightning strikes," said a spokesman.
"Where flooding or lightning strikes occur, there is a chance of delays and some cancellations to train and bus services."
For more information, visit https://www.metoffice.gov.uk/weather/warnings-and-advice/uk-warnings
---
---